The pandemic has made cost management and the redefinition of value proposition of CRE attributes a top priority for operations.
As the demand for leased space is much lower, CRE companies are facing increasing pressure to control costs. Globally, 40% of respondents expect rent growth to decline in the next 12 months, while 59% expect vacancy rates to rise. Interestingly, only 37% of respondents in the Asia Pacific region expect rents to fall, but 74% of respondents expect a significant increase in the vacancy rate.
This pandemic has also led to long-term changes in tenant and end user preferences, which may affect rental demand. About one-third of banking, insurance and investment management companies respondents stated that they plan to rationalize their CRE footprint in the next 6 to 12 months.
Deloitte survey shows that in the next 18 months, rental demand for hotels, retail and office space may see a double-digit decline (Figure 7).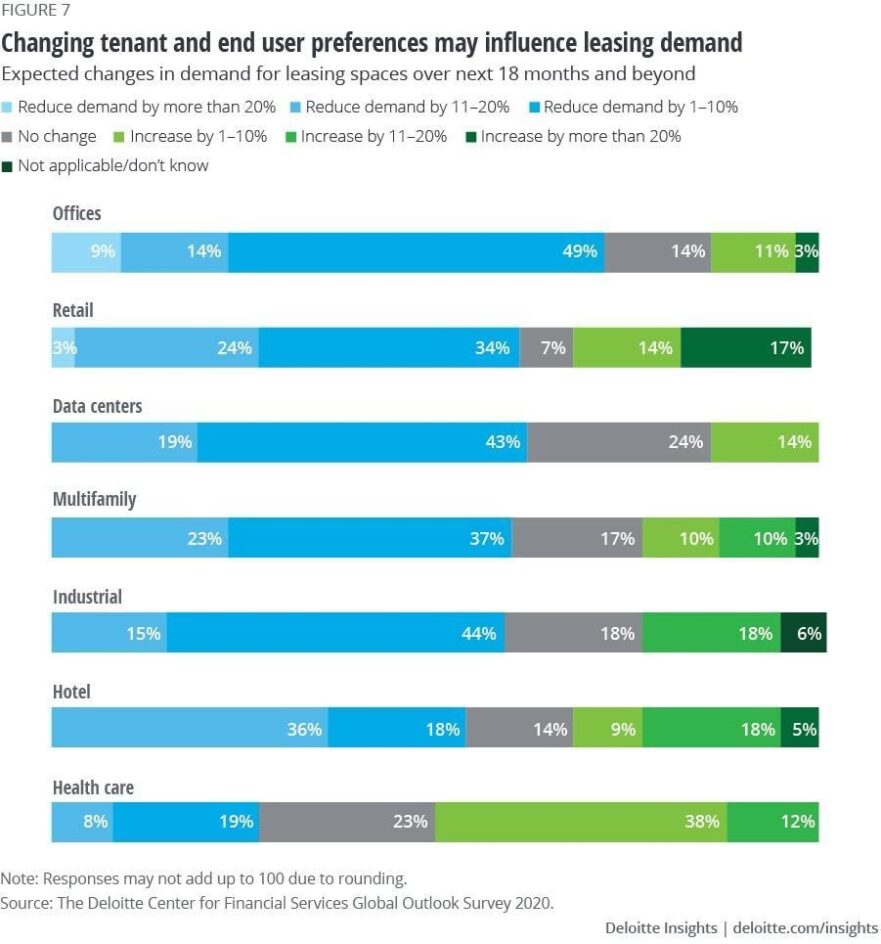 Balancing tactical and strategic actions
In order to recover and prepare to flourish in the next 12 months, the CRE industry should focus on managing costs to improve operational efficiency and reposition the value of the existing CRE space. Only 48% of the executives surveyed partially or fully agreed that their organization has a clear vision and action plan to maintain operational and financial resilience. From a regional perspective, 38% of North American respondents said their company has developed such a plan, compared with 53% of respondents in Europe and the Asia-Pacific region. Overall, the interviewees seem to be committed to digital operations: most plan to make the largest technological investments in real estate operations and management in different CRE functions.
Optimizing operations
Deloitte's survey data shows that CRE's goal is to reduce costs by an average of 20% in the next year or longer, because most owners/operators have to bear the cost of preparing for reoccupying space. Although 46% of North American respondents and 53% of European respondents expect to reduce costs by 11-20%, 41% of respondents in Asia Pacific expect to reduce costs by 21% to 30% (Figure 8). As expected, many companies plan to reduce their disposable expenses in the next 12 months to manage costs. Since the outbreak of the epidemic, more than 50% of respondents have reduced their pay, frozen promotions, reduced or provided flexible working hours, and adopted vacation and layoff measures to reduce labor-related costs.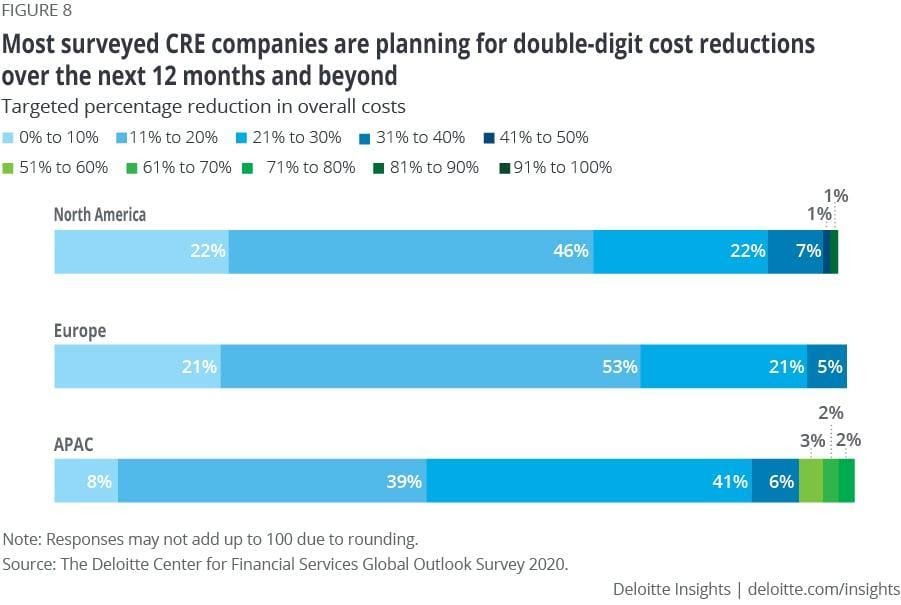 Aiming at positioning itself for long-term success, the company should consider streamlining and reorganizing its operations to make the work faster, cheaper, and more efficient. This may involve in-depth analysis of business processes, identifying restructuring and reducing opportunities for layoffs. Companies can use automation or non-core business outsourcing, or a combination of the two, to improve operational efficiency. They can also modernize asset management systems and implement data-driven decisions related to physical space, location, collaboration with tenants and suppliers, and the need to manage and monitor facilities. Finally, they can use the combination of cloud, RPA and AI to automate and digitize the end-to-end leasing process.
Using technology to reposition CRE space and facility management
Since tenants and end users may use different CRE attributes to establish emotional intimacy, the space may be valued based on experience value rather than just based on traditional indicators (such as cost/square feet or sales/square feet). Deloitte survey response also shows that, unlike the previous emphasis on location, the functions of smart buildings and occupational density related to health and safety may play a more important role in future leasing decisions. CRE owners/operators should change their mindsets to adapt to the way tenants make strategic bets on their CRE investments. To this end, leaders should use technology and data in every step of decision-making and execution. They also need to frequently collaborate, communicate and coordinate with tenants to stay consistent. Only 38% of respondents stated that their organization has increased collaboration with tenants to understand end user preferences.
Organizations should use perception tools, alternative data sets and analysis to assess and predict the impact of changing investor and tenant/end user preferences on CRE usage and demand. In some cases, the company may have to be creative and adjust space for supplements or new purposes. Even before the pandemic, many retail properties lost value and purpose due to online sales. Since COVID-19 emerged, this trend has been accelerating. But now, some landlords are converting empty retail spaces into mixed-use developments, apartments or warehouses.
In most other cases, companies can increase the value of their property by deploying intelligent building design and maintenance functions, and providing more related services to tenants and end-users. These services include the use of sensor technology and predictive analytics to remotely monitor facilities, and provide pre-emptive or use-driven maintenance activities; or use smart building technology and 3D visualization to help landlords assess the operational readiness of physical spaces in real time and implement stricter cleaning systems and monitor the HVAC system. Facing the increasing demand for warehouse space, some warehouses are accelerating the adoption of technologies such as automatic forklifts and drones to keep facilities running and reduce labor.
Are you interested in developing a digital transformation? Request a free demo at bookacorner.com!
Source: The Deloitte Center for Financial Services Global Outlook Survey 2020